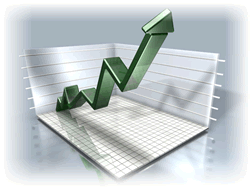 How Can a Performance Dashboard Help My Business?
The following describes how internal business intelligence can help you.
Your business is your livelihood, the more profitably it runs, the more it gives back to you.
If your business has high sales revenues with low costs, chances are it is a very profitable enterprise.
What you might want to monitor are your sources of sales e.g. east coast, west coast, north and south.
When one of them rises or falls unexpectedly, you probably will want to investigate the reasons why so that your company can continue to prosper. The same can be said for costs.
The beauty of a performance dashboard is it converts the numbers into a picture that instantly tells the status of sales and costs. Anything unusual is readily visible and subject to scrutiny.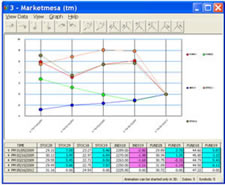 Your accounting system probably generates financial ratios based on your business' various revenue streams and costs. Like sales and costs, financial ratios can also be committed to Marketmesa charts that instantly convey the financial health history of your company. Your accountant can explain the importance of keeping various ratios within an acceptable range to maintain financial health.
Chart & Compare 100's of Stock and Dashboard Performances - In 1 Screen!
Marketmesa comes as a versatile 21 day free Stock Chart Software Download trial available long term as a subscription.
Marketmesa™, Chart & Compare ™, Your World at a Glance™ and Dashboard Performances ™ are trademarks of Marketmesa, LLC New Jersey
All other trademarks are the property of their respective owners.
Marketmesa Software and Marketmesa.com (c) 1993- Marketmesa, LLC