Stock Market Charting Software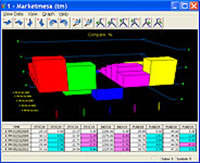 People need strategic data to make informed decisions about creating new opportunities. Our company was founded to provide people a simple means of comparing where we are in relationship to our very connected world.
To that end, we developed patent pending technology to make a complex concept a simple reality. We created a charting dashboard whose flexibility enables people to quickly choose and compare hundreds of strategic performances at one time to explore those opportunities.
Attention data providers:
Along with meeting the needs of our users, we also offer a simple common format to data providers from all communities. By formatting your data native to the Marketmesa™ simple input text format, you will make it easy for people to integrate your important data with other local and global data sources. Besides the marketing rewards of comparisons using your data products, by making your data compatible for the easy exploration of new opportunities, there is the synergy and satisfaction of advancing the Global Good.
To all of our users and data providers, we hope Marketmesa™ serves you well!
Sincerely,
Charles Rosendorf - Inventor
and
The Marketmesa Team
Marketmesa, LLC



Marketmesa™, Chart & Compare ™ and Dashboard Performances ™ are trademarks of
Marketmesa, LLC New Jersey
All other trademarks are the property of their respective owners.
Marketmesa Software and Marketmesa.com (c) 1993- Marketmesa, LLC